The first time I happened across Jennie-Mae and Kristin's Etsy shop, Apropos Roasters, I was immediately stuck by the rustic charm and elegant simplicity of their hand tied wedding favors.
I could nearly smell the rich coffee aromas and feel the comforting warmth of a cup in my hand - just from the photos alone.
I knew I had to do a feature.
Based in
Richmond Virginia, Apropos Roasters specializes in fair trade and organic coffees and also offers are a variety of teas and hot cocoa.
T
heir attention to detail and steadfast commitment to making a truly quality product sets them apart from the crowd.
Jennie-Mae, a self described perfectionist, told me "e
verything I do is something I've tried out and worked on until it's prefect and ready to present. If you've ordered wedding favors, I've roasted all the coffee in small 2 pound batches, portioned it, created your stamp, and finally tied each bag with twine myself." Here's more of my interview with her:
What was your background before you began Apropos Roasters?
My background has always been pretty much coffee related, with a little schooling mixed in. I've always had a love of small business and after working for a few while in college, I helped open an art/music venue (that served coffee, of course!) and then a small coffee shop, and now I'm finally doing my own thing on Etsy, (I also deliver coffee locally in Richmond).
What inspired you to start Apropos Roasters?
I wanted to do my own thing, and I wanted to simplify. "Brick and mortar" shops are fun but can be very complicated. I wanted to concentrate on just coffee.
Do you have a favorite design or product?
I really love the coffee wedding favors. I love the idea that I'm making something very unique and specific to someone's special day. When I started the business, some friends of mine were getting married and needed favors, so I did them as a gift. I had no idea what I was doing. I had to figure out how to design a stamp, come up with the packaging, decide on how to portion them, etc. When they came together, I figured it couldn't hurt to try it on Etsy. Now I spend 50% of my time on them!
What are you doing when you are not creating? Haha, probably creating something else! I have a really compulsive need to try things and also a "how hard can it be?" philosophy. It sometimes leads to total chaos.
But
I am extremely lucky with my boyfriend, Zach as my
work can take up a lot of space and time, and he never complains. We also talk about new ideas and strategies at the end of the day over a glass (or two) of wine.
Most importantly, he's totally supportive of every idea as I am with his (he runs a small business as well).
I also really love gardening and cooking; both things you can really dive into and get your hands dirty with.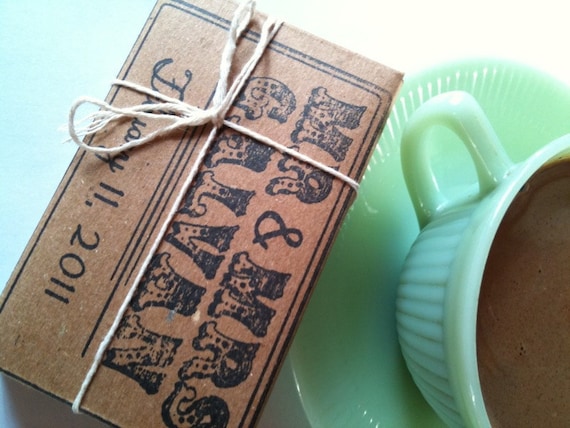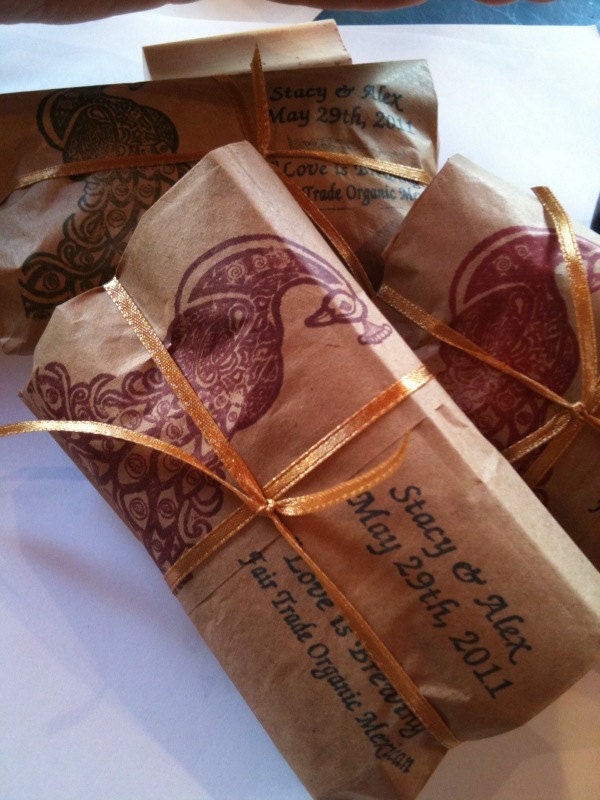 What is your work space like? Tiny! And full of huge burlap bags of coffee. There's a small roaster to my left, and my little desk right beside it. Also, there are shelves full of boxes, bags, ribbon, twine, stamps, and stamp pads.
What or who inspires you? Hard working people with unique ideas. (There's a LOT of them on Etsy!)
What advice would you give to couples seeking to make their wedding memorable and special?
Just relax and make sure that it's fun for both of you.
Make sure to stop by and visit
Apropos Roasters
on their main website or on
Etsy
.
And thank you so much to Jennie-Mae for sharing a bit about your business and your passion with us!